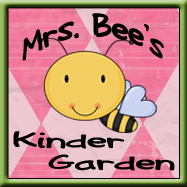 Mrs. Bee is having a parent involvement linky. I have a number of things I do that probably everybody does: Friday folder, daily assignment book, website,volunteers...
However, when I began teaching 3rd grade six years ago, I began a great activity that kids and parents love! About a month before we do our state testing, I send home a letter to my parents explaining the testing and thanking them for all of their support...At the bottom of the page, I stick a post-it note for each day of the testing. Parents are asked to write encouraging words to their child and send the notes back to me (preferably without their child knowing) before testing begins.
Each day during testing, I place a different post-it note on the child's desk. They almost always think their parents came to the classroom and put the post-it on their desk! They look forward each day to see what their parents wrote! I firmly believe it gives them an extra boost as they sit down to take the tests.
Parents are often very creative and loving in their comments to their children. Some of them nearly make me cry.
The notes can't be on the students' desks during testing, but many of them keep the notes lined up on the inside of their desks for weeks after testing. Even as our testing changes in the coming years (Hurrah!), I will find some way to keep this activity going in my room.